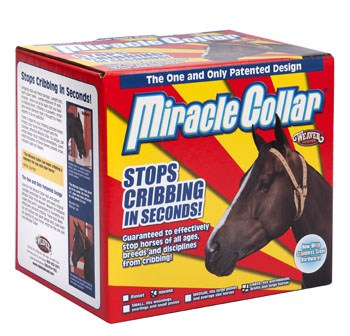 Weaver Miracle Collar
Weaver Miracle Collar
Weaver Miracle Collar Stops Cribbing Humanely and Effectively!
You have the power to break the destructive cycle of cribbing with the one and only Miracle Collar by Weaver.
Carefully handcrafted from weather-resistant harness leather for strength and gentleness to the hair coat, this unique collar correctly fitted applies pressure only when your horse attempts to crib. As a result, it can be worn while eating, drinking, grazing or being ridden.
Furthermore, The Miracle Collar is guaranteed to stop horses of all ages, breeds and disciplines from cribbing.
Nickel plated hardware.
Small size fits weanlings, yearlings and small ponies.
In addition, Brilliant accompanied with our Miracle Collar Fleece Covers.
by Weaver (USA)
Sizes small, medium and large – Havana Brown Leatheravailable.

Product Code: WMC