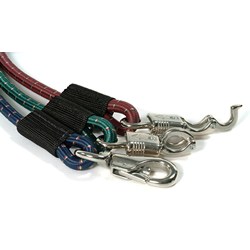 Weaver Bungee Trailer Ties
Weaver Bungee Trailer Ties
Weaver Bungee Trailer Ties are 23 inch long trailer ties with extra give, made from 1/2″ bungee cord.
They come with a quick-release panic snap on one end and in addition, a bull snap on the other.
Furthermore, they are Nickel plated hardware.
One size only – Blue and Black available.
By WeaverProducts (USA)
Product Code: WTT