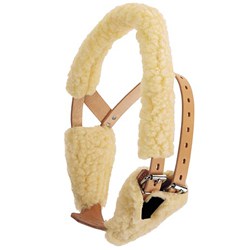 Miracle Collar Fleece Covers (Set)
Miracle Collar Fleece Covers
Gives the patented Miracle Collar extra cushioning.
Washable maize fleece browband and jowl covers provide that extra bit of protection and comfort.
The browband cover simply slips over the Miracle Collar's browband and the jowl covers simply attach with self-gripping Velcro; closures.
Fits medium and large Miracle Collars.
Each package contains one browband cover and two jowl covers.
Natural Fleece ONLY By WeaverProducts (USA)
Product Code: WMCF