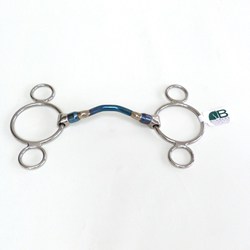 Happy Tongue Petros 3 Ring (POLO)
Bombers Bit Happy Tongue Petros 3 Ring
The Happy Tongue Petros 3 Ring by Bombers Bit is for a horse shaking its head when bit pressure is applied. That or its tongue trying to escape the bit are classic signs the horse has a sensitive tongue.
With this in mind the Happy Tongue was created, it has a medium port creating space for the tongue, relieving pressure and as a result allows the horse to relax.
The Petros mouthpieces rotate preventing the horse taking hold of the bit and can be combined with any 3-piece bit.  Hence, good for a horse that leans or tries to take hold of the bit.
A Ring cheek piece introduces poll pressure as well creating leverage on the mouthpiece. Furthermore, the 3 Ring is our most popular version.
Additionally, all our bits are made from blue sweet iron, because it:
oxidises easily
encourages salivation
helps bit acceptance
is warm and sweet
Please note the blue will fade with use.
Product Code: BBHTP3R