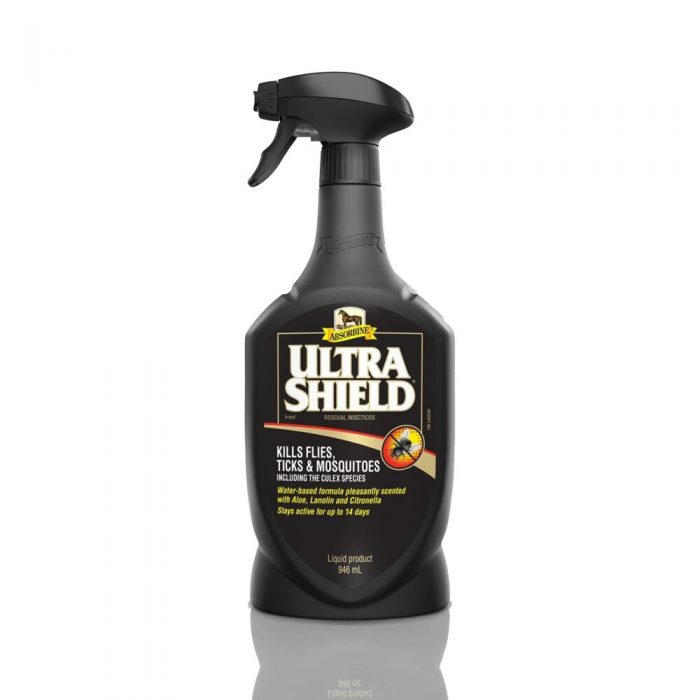 Absorbine UltraShield Premises Spray
Absorbine UltraShield Premises Spray
Absorbine UltraShield Premises Spray is used for use in Equestrian and other premises.
UltraShield the most technically advanced insecticide and repellent, provides the ultimate protection for your horse.
Furthermore, it repels flies, mosquitoes, and gnats for up to 14 days.
Its water-based formulation has three active ingredients, contains two sunscreens, and is pleasantly scented with citronella.
Hence, ultraShield can be used on all premises where animals are kept, as well as stalls and bedding. The Most advanced, ready-to-use fly repellent available.
In addition, it contains a sweat resistant formula.
The insects are killed and repelled for up to 14 days.
Active ingredients: Natural Pyrethrins (from chrysanthemums), Permethrin and Piperonyl Butoxide Repels and controls house, stable, horn, face, horse, and deer flies, mosquitos & gnats.
Kills fleas and ticks Pleasant citronella scent Fly spray.
Note: Natural Pyrethrins and synthetic Pyrethroids kill and repel in the same manner. They are tactile, that is, the fly must land to be repelled and to pick up the insecticide in order to be killed.
This contact with the insecticide repels the fly and later kills it by attacking its central nervous system.
Product Code: AUS