Founded by Stephen Biddlecombe, Equine Management prides itself on offering quality products at the right price. He set up the company upon returning to the UK, after twenty years of living abroad and being involved in international equestrian competitions; this valuable grounding has allowed Equine Management to flourish, while retaining its roots. Constant research and quality control enables the company to develop and distribute a wide range of equestrian equipment for both horse and rider.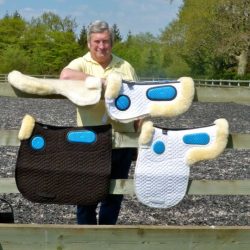 Equine Management famously developed the Stephens Range of quality bridle work and accessories; the leather is made in Walsall, England where possible, the home of traditional leather craft and experienced saddlers. A large percentage of other Stephens Range branded products are manufactured within the EU, however, to keep prices competitive.
Equine Management also invented, researched and developed the internationally renowned 'Gel Eze' products, a range of accessories with non-slip properties that offer incredible absorption of impact.  Products include under-bandages, wither pads, non-slip pads (only 3mm thick), shaped anatomic saddle pads and our thicker saddle pads.  During the latter part of 2011, Stephen has developed the NEW Super Wither Pad, which has been launched prior to Christmas 2011.  The company continues to lead the field in equestrian gel technology accessories.
Equine Management is also proud to be associated with several leading manufacturers that choose the company to distribute their products; these include supplement brand Grand Meadows, Royal Rider stirrups, Equine Textiles, W.F. Young (Absorbine) and the Cowboy Magic and Weaver Inc ranges.  Equine Management's revolutionary worming and oral paste bit, Wormabit, launched in 2010 and has been a massive success throughout the equine world.
Equine Management's online presence, equineman.com, reaffirms the support given to the company's retailers, providing a wide range of information on the above brands.
The success of Equine Management depends on valued support and commitment from a network of manufacturers and retailers, both in the UK and overseas; with a continued level of branding, forward planning and efficiency, the company continues to offers its clients competitively priced, quality goods for the equestrian consumer. Stock levels are always good at Equine Management, and orders can be dispatched immediately using an overnight courier service. Out of stock items require no more than three to four weeks' delivery turnaround.  Although a small company, Equine Management prides itself on its great service, and welcomes retailer feedback – we look forward to discussing your individual requirements and providing you with a high level of personal service during the coming months. Please contact us for further information on our full product range.
Stephen Biddlecombe