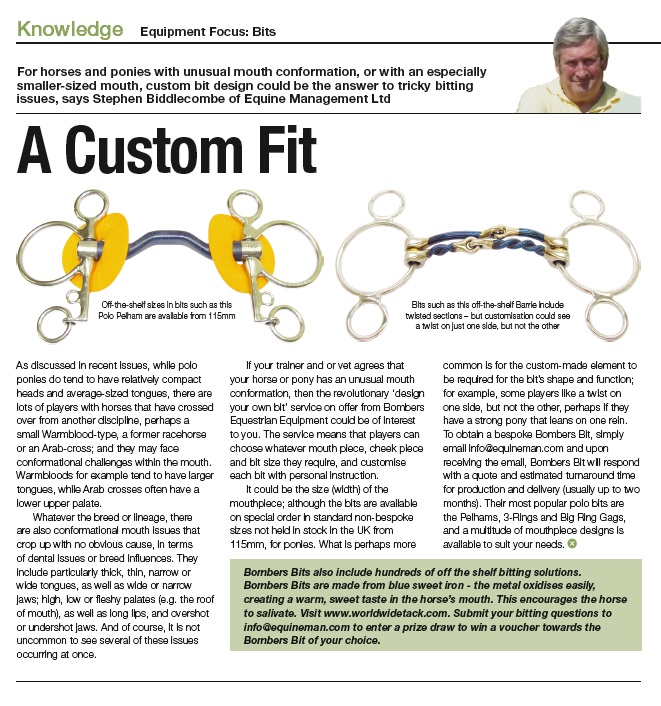 This month Equine Management's Stephen Biddlecombe advised readers of Polo Times on horses and ponies with unusual mouth conformation, or with an especially smaller-sized mouth discussing whether a custom bit design could be the answer to tricky bitting issues! 
Stephen says… "As we have discussed in recent issues, while polo ponies do tend to have relatively compact heads and average-sized tongues, there are lots of players with horses that have crossed over from another discipline, perhaps a small Warmblood-type, a former racehorse or an Arab-cross; and they may face conformational challenges within the mouth. Warmbloods for example tend to have larger tongues, while Arab crosses often have a lower 'upper palate'.
Whatever the breed or lineage, there are also conformational mouth issues that crop up with no obvious cause, in terms of dental issues or breed influences. They include particularly thick, thin, narrow or wide tongues, as well as wide or narrow jaws; high, low or fleshy palates (e.g. the roof of mouth), as well as long lips, and overshot or undershot jaws. And of course, it is not uncommon to see several of these issues occurring at once.
If your trainer and / or vet agrees that your horse or pony has unusual mouth conformation, then the revolutionary 'design your own bit' service on offer from Bombers Equestrian Equipment could be of interest to you, The service means that players can choose whatever mouth piece, cheek piece and bit size they require, and customise each bit with personal instruction.
It could be the size (width) of the mouthpiece; although the bits are available on special order in standard (non-bespoke) sizes not held in stock in the UK from 115mm, for ponies. What is perhaps more common is for the custom-made element to be required for the bit's shape and function; for example, some players like a twist on one side, but not the other, perhaps if they have a strong pony that leans on one rein. To obtain a bespoke Bombers Bit, simply email info@equineman.com and upon receiving the email, I will respond with a quote and estimated turnaround time for production and delivery (usually up to two months). Our most popular polo bits are the Pelhams, 3-Rings and Big Ring Gags, and a multitude of mouthpiece designs is available to suit your needs."
Bombers Bits also include hundreds of off the shelf bitting solutions. Bombers Bits are made from blue sweet iron – the metal oxidises easily, creating a warm, sweet taste in the horse's mouth. This encourages the horse to salivate. If you are interested in retailing the Bombers Bits please contact the team at Equine Management on Tel: 01825 840 002 or Email:info@equineman.com Visit the website at www.equineman.com